Last September, Avenues in Motion joined the nationwide Bike to Work Week celebration to encourage everyone to BIKE THERE, wherever there may be. We hope you are inspired to ride more often beyond Bike to Work Week. Bike to Work, yes. Bike with friends, yes. Bike to an errand, yes. Bike to a Bicycle Friendly Business, yes. Bike around your neighborhood and back to your home, yes. Any bike, anywhere, it all counts. We just want to bike together and inspire each other to do this simple act that means so much to our lives and our future. Let's experience the joy of biking together even as we keep our distance.
First off, meet Austin! From her home in Morristown to her office in Parsippany and everywhere in between…she makes it happen! Read more below about her bike commuting journey. She even has some helpful tips and advice for anyone considering bike commuting too! Her tips are helpful no matter where you go on your bike, even if it's to ride around the neighborhood or to run a quick errand!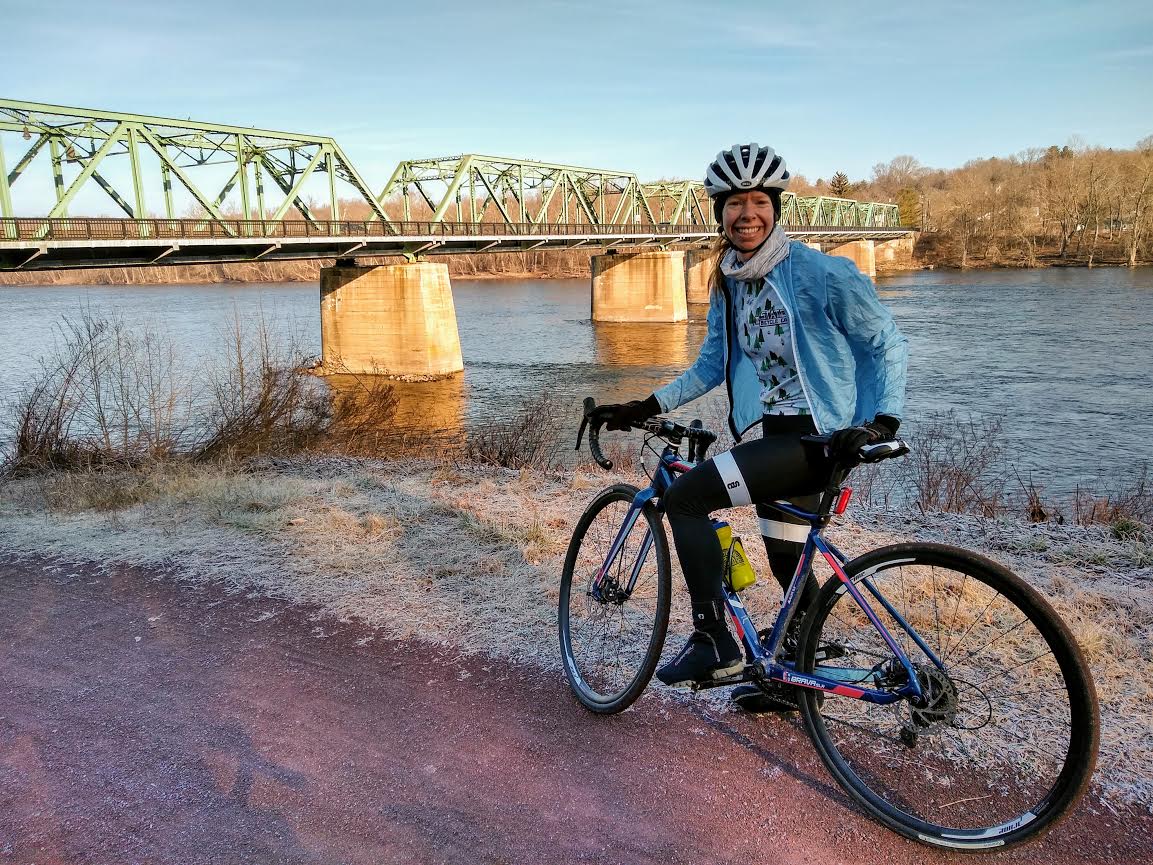 Tell us a little bit about how you started bike commuting.
When I started riding to work, I had already been spending a lot of time on the road training for road racing, so I felt comfortable on the road and probably thought, why not ride my bike to work? But my commute is about 10 miles, and not the best route, so I was hesitant. I think once I got better at prepping for riding into work it got a lot easier. I definitely spent a lot of time planning it before doing it. I try to make all my food for the day in advance and plan out what to wear. I leave pretty early in the morning, so I'm always the first one in the office. The funny thing about driving in NJ, my commute by car takes about 20 minutes, and the commute by bike is more direct, and only takes about 40 minutes, or even 30 minutes on a speedy day!
How did you feel as a new bike commuter?
I found it really intimidating to start bike commuting! There were so many aspects that made me hesitant. First is the office environment. Some people are lucky enough to work in an office with access to showers. I'm lucky enough that my office is accepting of the body wipe and dry shampoo shower. Next is definitely the route. There are quite a large number of cars in NJ, and not all roads are cyclist friendly. My office is bordered by Routes 80, 46, and 202. I really struggled to decide on a route that truly felt safe to me. I eventually settled on pedaling really hard on a very brief section of 46. Third is how do you pack? When I first started bike commuting, I did not have a bag big enough to fit my work laptop, clothes, and food.
Have you grown or changed since then?
I have mellowed out and try to enjoy the scenery more. The best thing I did was get a good backpack that can fit my laptop, clothes for the day, breakfast, lunch, any tools, and snacks.
Who or what else helped you along the way?
My husband actually started commuting by bike just before me, and I thought, "Okay, if he can commute to work through Morris County, I can too." A fun fact about his experience: his commute in the car is 30 minutes, and his commute by bike is about 35 minutes! Seeing other people commute by bike is a great motivator to get your rear in gear and just try it out! The worst thing that happens is you spend a day being outrageously hungry at work. And also maybe forgetting shoes or underwear or something!
My biggest recommendation if you're interested in trying bike commuting is practice or check out the route and make sure you feel comfortable. Additionally, if you're nervous about committing to two rides, don't! Drive in the morning with all your equipment in the car, and ride home, and plan to ride back to work in the morning. It still requires some planning, but is a great way to bike commute and reduce the daily mileage if that's something holding you back.
What surprised you about bike commuting?
Bike commuting makes my days so much better. I show up to the office in a better mood, and I arrive home in an even better mood. Sometimes I get to explore a new path or trail. The best is when I catch beautiful sunrises or sunsets along the way. I was also really surprised by the positive response from people in my office. So many people told me they thought it was really cool, and mostly people were just concerned for my safety!
Are you concerned about safety and, if so, how do you manage those concerns?
Absolutely, bike safety is so important! I do everything I can to ride safely which includes wearing a helmet, doing what I can to be seen, riding predictably, and communicating with traffic on the road. Pavement is very unforgiving, so a helmet is always smart to wear. To be seen, I always have a rear red light on my bike. It's very important during dawn and dusk, but I use mine all day. It's also great to have a front white blinky. Ride as predictably as possible. The truth is, you will always be interacting with cars, and while we'd all love if they were patient and gave us COVID's 6 feet of space, it just isn't the case with a lot drivers. I try to ride in a straight line, be as aware as possible of cars coming up behind me, and signal as necessary, especially if I have to divert from the straight line due to debris or a change in the road.
What's your best advice for new riders? And what keeps you riding, even after a bad day?
I think just starting to ride can be intimidating for the wide range of cyclists you see on the road. Don't stress about what other people are saying about their bike or their clothes. Just get outside and enjoy a nice day on your bike. If I want to fall back in love with riding, I try to get up early before most people, and enjoy the quiet time on the road or trail, all to myself! Another great option is to find a good group to ride with, company you enjoy on and off the bike. They will always make it a fun time!
I heard your dad used to bike commute?
Yes, my dad did bike to work back in the day! He started riding in about 2008 or '09 in his late 50s. How cool is that? At the time he was living in Yardley, PA, and working in Trenton for the state of NJ. He remembers there being an initiative with the NJ DOT to ride your bike to work! It was 8 miles one way, with 6 miles along the tow path in PA. He tried to commute by bike at least 2 times per week. He said the hardest part was battling the buses in Trenton in the afternoon and planning for the weather when storms were in the forecast!
Imagine a world where many more people are biking to work. What does that look like to you?
That makes me so happy! There would be way more multi-use trails, safe roadways for cyclists, less car infrastructure, more bike racks, more offices with showers, and more pedestrian and bike connectability. I also can imagine a lot more community support around bikes! My current office is located in Parsippany so my dream would be a rail trail from the Morris Plains train station to the Denville station, which would cut out my commute along Route 53! I live in Morristown, and the traction line from Morristown to Madison is very cool. NJ has so many active rails, but also abandoned rail lines. I would love to see more recreational use or alternate transportation in those areas.
____________________________________________________________________________