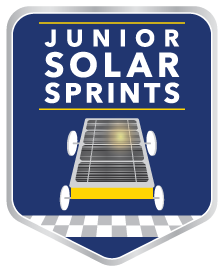 What is Junior Solar Sprints?

Junior Solar Sprints is a STEM (Science, Technology, Engineering and Mathematics) competition that engages students to design, build and race solar-powered model cars. For JSS participants, materials (including solar panels), instruction and professional development workshops are provided free of charge. The program also adheres to the Next Generation Science Standards (NGSS).
The 2024 JSS Will Be on May 21st at New Providence High School! (Rain Date: May 23rd)
Timeline:
September 2023: KIT REQUESTS ARE NOW LIVE: Please click here!
Sept. – March: Kits will be delivered on a rolling basis
May 2024: JSS will take place at New Providence H.S. on May 21st with a rain date for May 23rd.
Who Can Participate?
Teams consist of up to four students.
Students in grades 6 through 8
Students between the ages of 11 and 14 participating in community or after-school groups
Students who live or attend school in the Avenues in Motion service area
Click here to view video submissions from past JSS competitions.
Email our Environmental Education Manager here to add your name to our JSS educator list – you will receive our monthly JSS updates as well as additional information as deadlines get closer. Visit our Materials and Resources page for helpful tips.